JavaScript earned popularity with web developers because of how responsive it is for users. Since it runs locally in the user's browser, there is no waiting for the server-side computations to run.
And what you can do with JavaScript is pretty fascinating when it comes to dynamic page effects and user interactivity.
But even something as simple, and lightweight, as JavaScript can be improved upon. That is where the JavaScript frameworks come into play. Using these frameworks allows a developer to do more with less code through chaining and can speed up the development process by using code that already exists.
Below, you will find some of the most preferable JavaScript frameworks that can improve your skills as a web developer.
1. Script.aculo.us
Script.aculo.us is an add-on for prototype, a java frame work. Its job is to assist developers in creating dynamic websites. This add-on facilitates the developer with tranquil cross browser user interface java libraries such as animation, drag and drop, AJAX controls, etc. to create stunning websites and web apps in a jiffy just like those you would find on sites from IKEA, CNN and NASA.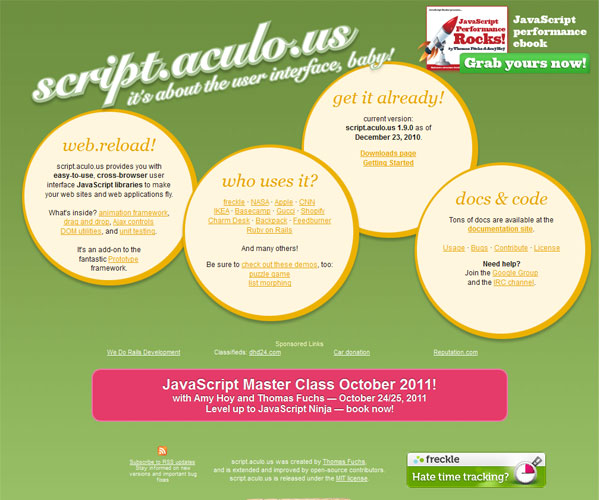 2. jQuery
jQuery is a revolutionary JavaScript library. This succinct java script library is used by many popular web giants like Google, digg and Technorati, etc. JQuery simplifies HTML document traversing, event handling, animation and AJAX interaction for quick and smooth web development.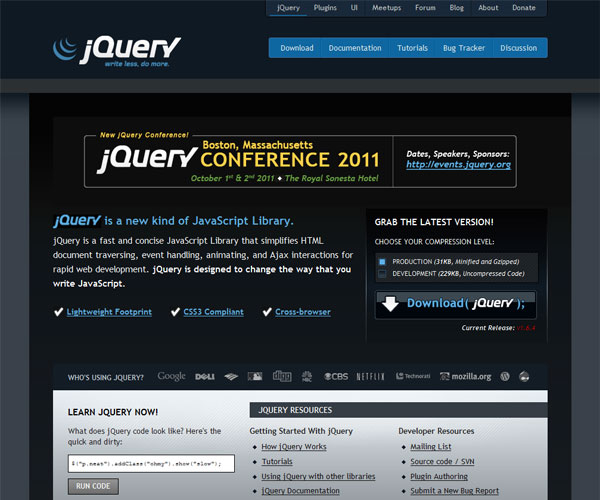 3. Dojo Toolkit
Get Dojo to create inspiring and powerful desktop and mobile apps. Create enterprise grade apps with grids and charts; or use dojo's lightweight core to create animations, easy CSS syntax query and to manipulate the DOM. For mobile and desktop apps Dojo API contributes to HTML5 capabilities such as geolocations, touch screens and much more.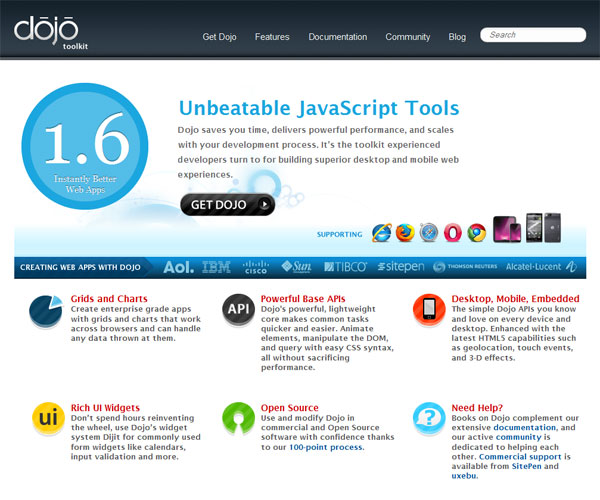 4. Sencha Ext JS4 Framework
Sencha Ext is a cross-browser JavaScript frame work used to build rich web apps. Generate touch charts embedded with gesture-based interactions, glossy animations and many other supple styling options to maximize data's aesthetics and usability. Sencha.io is a cloud service that facilitates your ability to send data to mobile devices faster and with lower costs.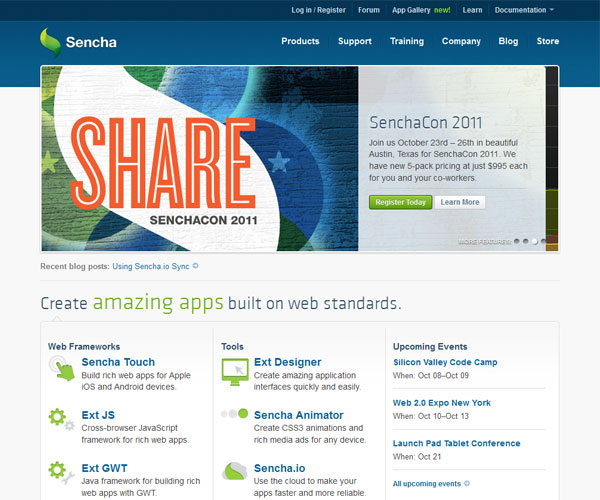 5. Prototype
A complete power packed JavaScript framework prototype is the codebase of choice for web app developers around the globe. Prototype features unique, easy to use toolkit for class driven development along with a full AJAX library.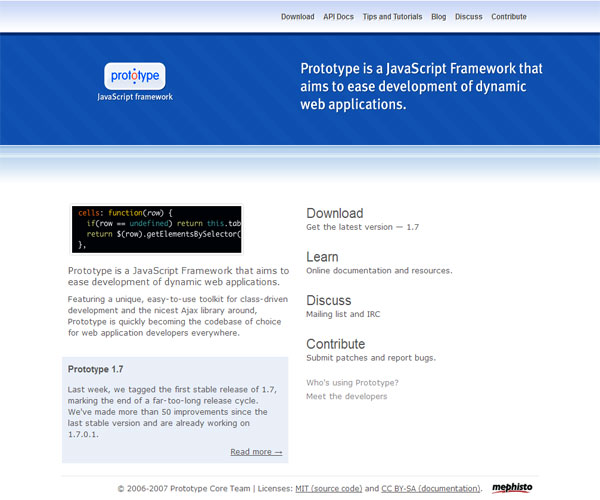 6. Uize JavaScript Framework
Uize JavaScript is an open source framework that comes with a number of features. Uize is a server agnostic, totally user dependent and can be used on any platform and server language like Java (Apache Tomcat), C# (IIS / ASP.NET), Visual Basic (IIS / ASP), C/C++, Perl (Perl / Apache), PHP, Ruby (Ruby on Rails), Python, etc. Uize supports mobile devices and comes with built-in widgets slideshow, calendar, date picker, slider, marquee, dialog, menu, mag view and much more.
Uize is enriched with many JavaScript features such as animation, inheritance, events, modules, libraries, templates, widgets, localization, documentation, code compression, build scripts.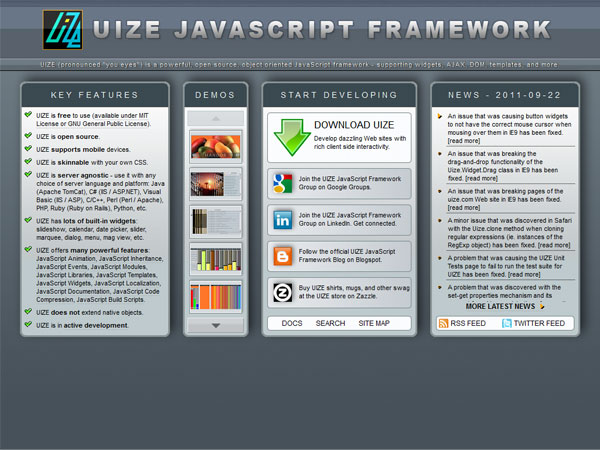 7. Qooxdoo
A universal JavaScript framework, aid you to create enormous applications on numerous platforms. It uses an object-oriented programming model which helps create innovative RIAs. Easily create interactive interfaces even if you do not have strong command over HTML and CSS. Qooxdoo supports developers with an advanced client server communication to develop an abstract transport layer that supports queues, timeouts and implementations via XMLHttpRequest, I-frames and scripts.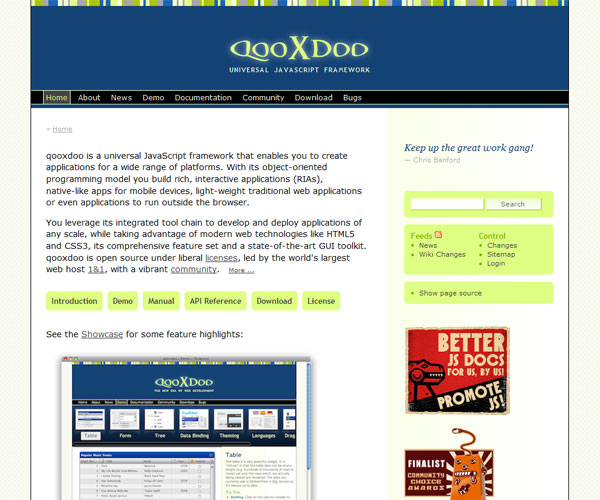 8. Zepto
Zepto is a compact JavaScript framework for mobile webkit browsers with a jQuery compatible syntax. It helps you focus more on your creation with a 2-5k library that handles the most basic work with a nice API.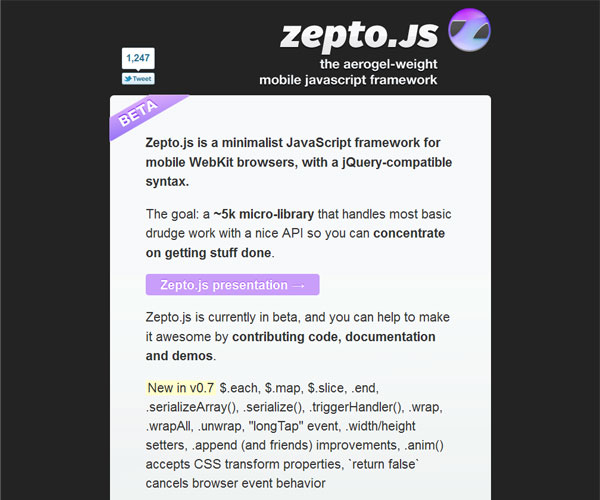 9. DHTMLX Touch
The DHTMLX touch JavaScript framework is compatible with all major browsers for mobile platforms that support HTML5. DHTMLX Touch offers a complete set of frame works that allows developers to create striking and vigorous web applications for mobile and touch devices like the iPhone, iPad and Android etc.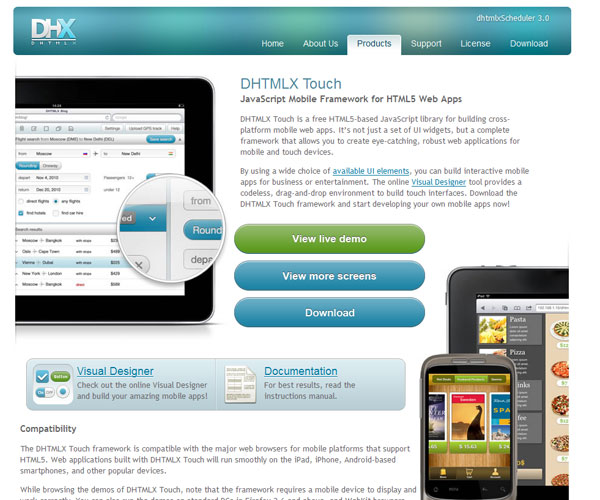 10. YUI Library
This industrial strength JavaScript library was built by Yahoo! front end engineers and global contributors. Offering a scalable, fast and robust library with complete set of JavaScript, CSS utilities and controls, YUI is another free library developed under BSD license. YUI comes in handy to help developers build rich and interactive web apps using DOM scripting, DHTML and AJAX techniques.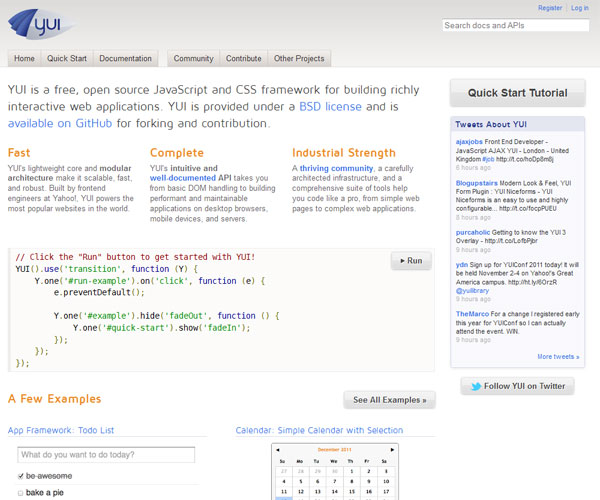 11. SPRY JavaScript Framework
SPRY is especially for those who do not consider themselves a JavaScript guru.
Any server-side technology (ColdFusion, PHP, ASP.Net, etc.) is compatible with Spry and working with it is so easy that anyone with basic web development skills can create cool, robust web apps.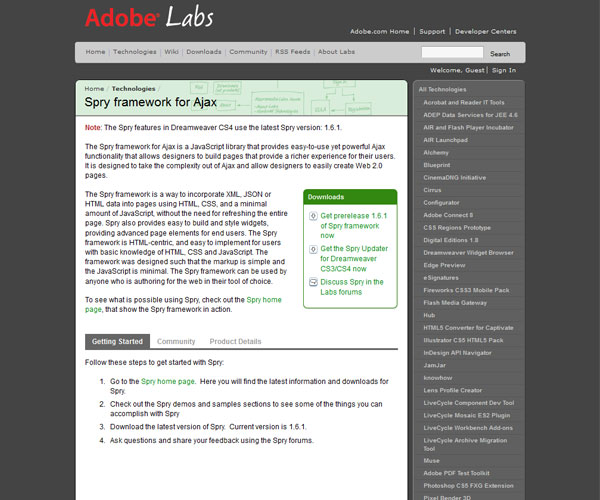 12. Moo Tools
MooTools is a squashed, modular JavaScript frame work using the precise Object-Oriented approach helpful for the intermediate to advanced JavaScript developer. Its well documented, elegant and coherent API allows developer to write cross browse, powerful and flexible code. MooTools code undergoes with strict standard compliance and doesn't throw any warnings. It's extensively documented and has meaningful variable names.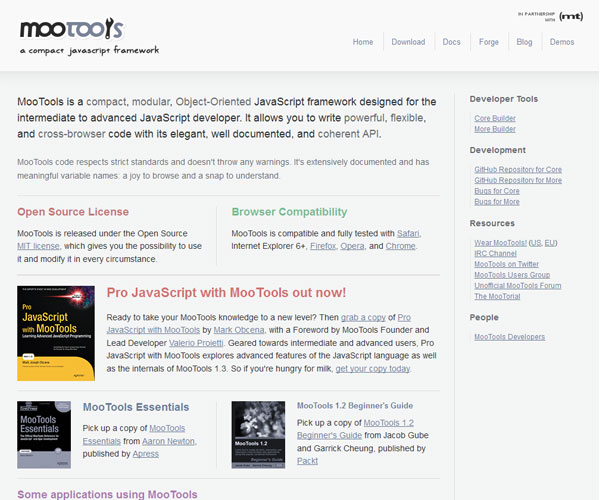 13. SproutCore
SproutCore is a great example of an open source framework for building mind boggling and innovative web apps that create a great user experience. Using the power of HTML5 to leverage the latest web technologies, SproutCore is also compatible with all browsers.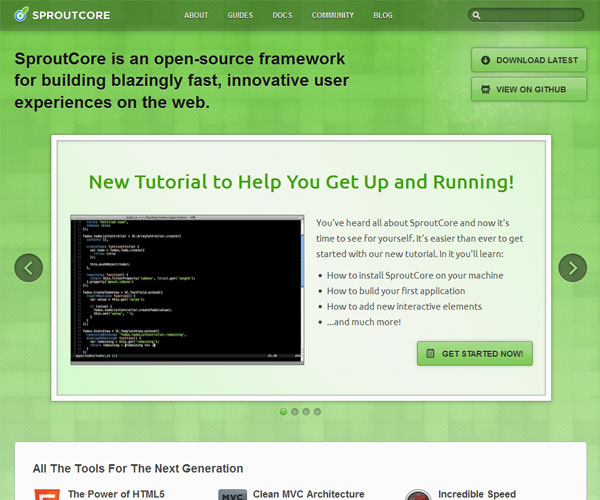 All these frameworks are for those adventures developers who keep on exploring new tools in the JavaScript arena. YUI, JQuery and Prototype are probably the famous one, but the rest are there yet to explore.