Knowing if your website is working properly is the first step in catching potential problems before they blow up. But unless you have time to check your site every five minutes or you want to wait for your visitors to tell you there's a problem, you need some kind of monitoring service.
Monitor Scout provides web-based monitoring that lets you know when your site is having problems, twenty four hours a day and seven days a week. You'll know about issues before your visitors notice, and in time to fix them before they cause real problems.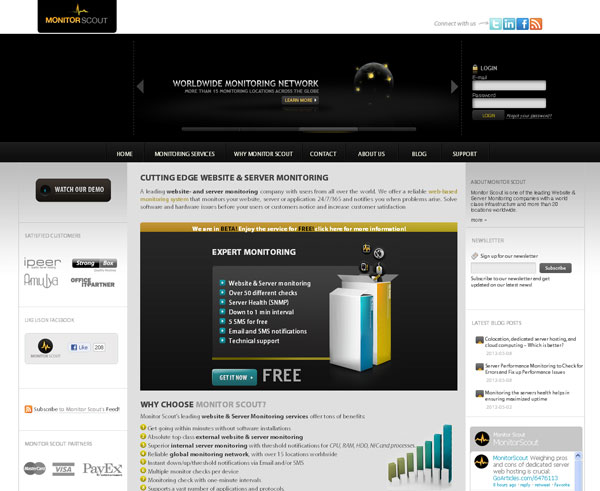 Whether you run a blog, e-commerce site, or something else entirely, uptime is crucial. The last thing you want is for a visitor trying to use your site to encounter problems that prevent them from making a purchase, finding the information they need, or contacting you. If that happens, there's a good chance they'll take their business elsewhere — straight to one of your competitors.
Monitor Scout gives you expert monitoring that includes more than fifty different checks, server health monitoring, technical support, SMS and email notifications (including 5 free SMSs), and 1 minute check intervals. And while Monitor Scout is in beta, you can use their service for free!
It only takes minutes to get up and running with Monitor Scout. There's no software to install and in addition to simple uptime monitoring, it also does internal server monitoring with threshold notifications for RAM, HDD, NIC, CPU, and processes. Your site will be monitored from more than fifteen different locations worldwide. Monitor Scout also supports a wide array of applications and protocols.
Monitor Scout includes a ton of different reporting and analysis tools, including uptime graphs, latency graphs for all monitors and locations, and usage and performance graphs for memory, CPU, network interfaces, hard disks, and processes. Alerts give you detailed information about the problem your site is experiencing, including location, monitor, and device. That information can then be used to diagnose problems and prevent them from recurring in the future!
But you get more than just server monitoring. Crucial business applications will also be monitored, including email, CMS, MySQL, and PostreSQL, among others. A script repository offers functions and scripts that will help you enhance your monitoring experience.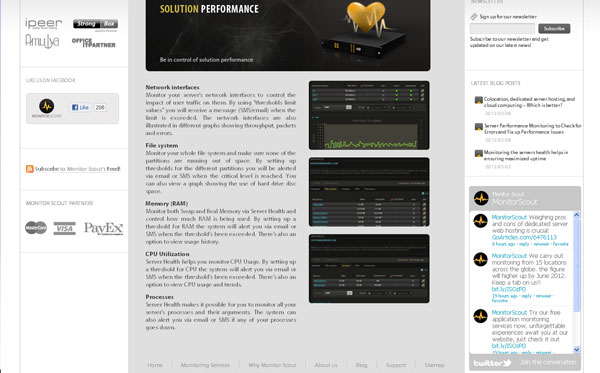 Whatever type of website you run, a monitoring service like Monitor Scout is a must-have to stay on top of potential issues and downtime, and improve user experience!