The best WordPress table plugins let you add different kinds of tables and charts to your site. They also make it possible to export and import table data, customize the look and feel of your tables, sort table cells, and perform other actions. Although there are many WordPress table plugins on the market, many of them haven't been updated for a while. So, in this post, we have collected the best premium and free WordPress table plugins that are regularly taken care of.
Note that the prices of the plugins might change over time, so always carefully check them out before making a purchase.
1. TablePress (Free)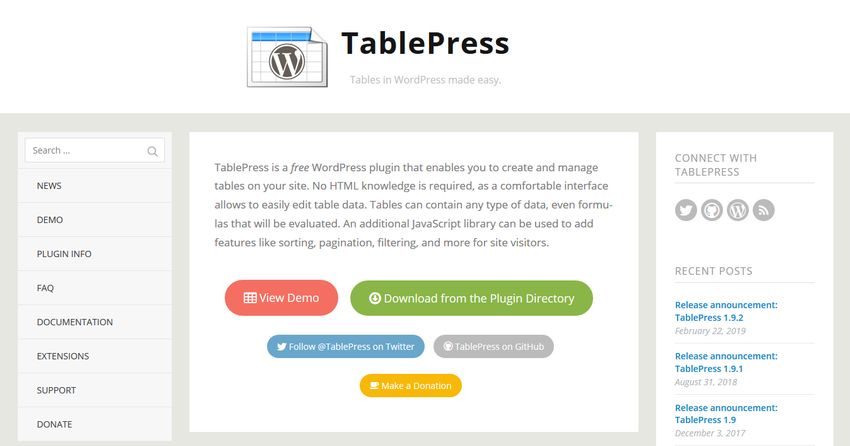 TablePress is one of the best WordPress table plugins, available for free. Currently, it has almost 3,500 five-star reviews and very responsive customer support. TablePress has been created by Tobias Bäthge Ph.D. student and is packed with many awesome features. It allows you to create and add tables to posts, pages, and widgets by using a simple shortcode.
You can also export and import your tables to and from HTML, JSON, CSV, and Excel files. With TablePress, you can create tables without any coding knowledge, thanks to its advanced visual editor. But, if you want to change the default design you can also add custom CSS to your tables.
You can also extend TablePress with extra features such as row filtering, responsive tables, row ordering, and many others with the help of pre-made extensions. 
Download & Pricing:
You can download TablePress for free from the WordPress plugin directory.
Some of the extensions are premium ones, however, you can decide how much money you're willing to pay for them.
2. Ninja Tables (Free and Premium)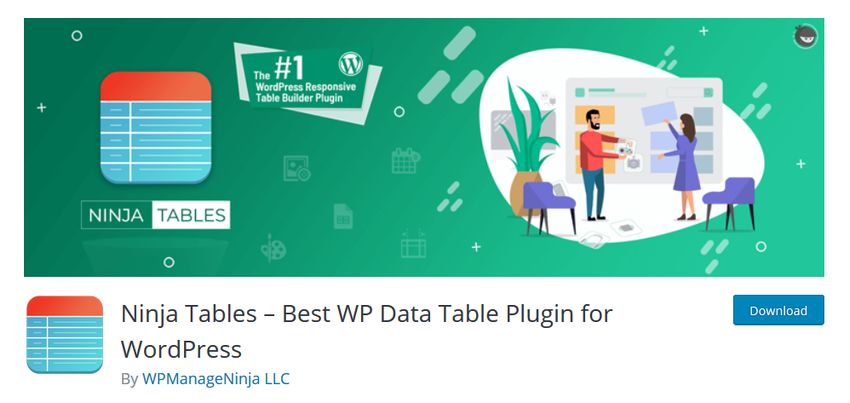 Ninja Tables is an SEO-optimized WordPress table plugin that has both a free and premium version. With the free version, you can create fix-width tables with single line cells by using Ninja Tables' built-in table editor. So, you don't have to write any code to embed tables into your WordPress posts and pages. You can also add borders and lines to your tables and make them more compact to fit into your layout.
The premium version comes with many additional features. For example, you can add multimedia contents to table cells, use unlimited colors, and connect the table with Google Sheets. Ninja Table Premium also makes advanced data filtering, text alignment, and conditional column formatting possible. Besides, it integrates with WooCommerce, too.
Download & Pricing:
You can download the free version of Ninja Tables from the WordPress plugin repository.
You can purchase three types of premium licenses: a single site license costs $39.00, an agency license (up to 20 websites) costs $79.00, and an unlimited site license costs $199.00.
3. wpDataTables (Free and Premium)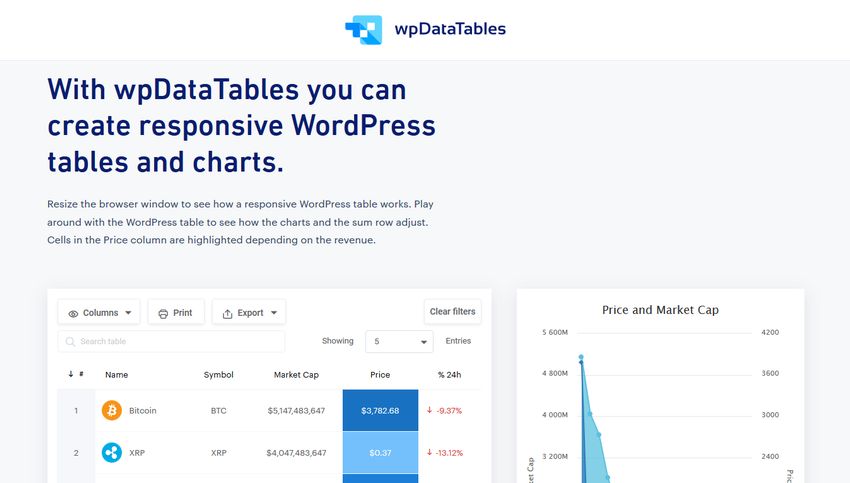 wpDataTables is a premium WordPress plugin that also offers a lite version for free with the core functionalities. With wpDataTables, you don't need to perform any complicated configurations to set up the tables you want. The lite version lets you provide data for your WP tables by uploading CSV, Excel, XML, JSON files or serialized PHP arrays. It's an excellent solution if you only want to add simple tables to your WordPress posts.
If you need more complex tables, wpDataTables Premium allows you to create any kinds of responsive tables, spreadsheets, and charts. It also comes with an advanced data manager with integrated CRUD (Create, Read, Update, Delete) functionalities for MySQL, MS SQL, and PostgreSQL databases. In addition, it has many built-in table editing tools such as an editor dialog, in-line editing controls, drop-downs, date pickers, and more.
Download & Pricing:
4. Data Tables Generator by Supsystic (Free and Premium)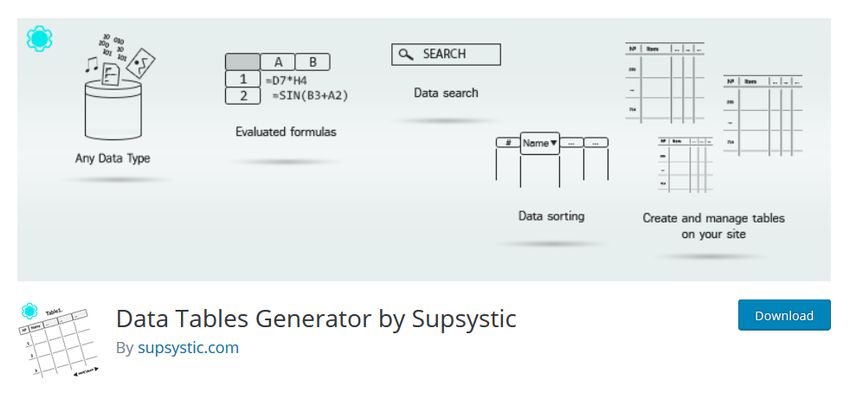 Data Tables Generator by Supsystic is a table plugin for WordPress that comes with both free and premium editions. The free version provides you with many awesome features such as responsive tables, a visual table editor, unlimited rows and columns, data formatting, pagination, sorting, and many others. The support forum on WordPress.org is also very responsive, so you can quickly get answers to any of your questions.
The pro version supplies you with even more capabilities that make it one of the best WordPress table plugins in the premium segment. For instance, you can export your tables to CSV, Excel, and PDF files, plus import tables from CSV, Excel, and Google Sheets. You can also auto-update your embedded tables from Google Sheets, migrate your tables in bulk, and generate diagrams. If you are interested you can find a Free vs Pro comparison table down on this page, too.
Download & Pricing:
5. Visualizer: Tables and Charts Manager for WordPress (Free and Premium)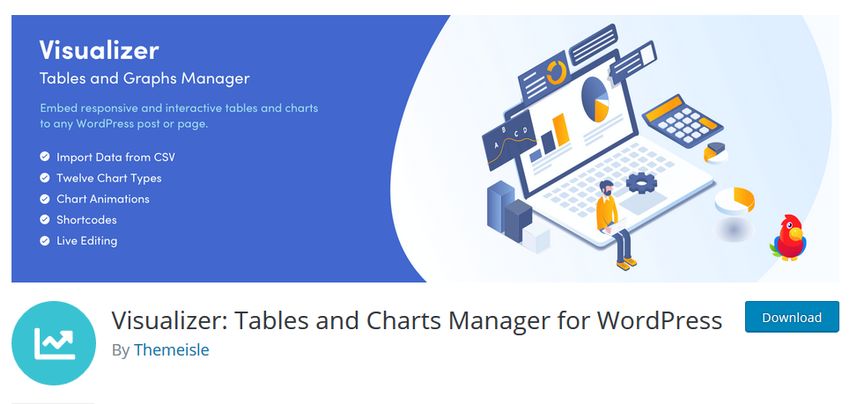 Visualizer: Tables and Charts Manager for WordPress is a full-featured WordPress table plugin created by the Themeisle team. The plugin makes use of Google's Visualization API and the DataTables.net jQuery plugin to ensure cross-browser compatibility for all of your tables. The lite version of the plugin provides you with basic functionality with which you can create and add simple WordPress tables to your site.
The premium version is packed with many advanced features such as live table editing and auto-syncing with Google Spreadsheets and other online tables. You can also choose from 12 different types of charts, including pie charts, line charts, timeline charts, and area charts. You also get access to the plugin's Permission feature that enables you to create private charts available only to users with sufficient permissions.
Download & Pricing:
6. League Table (Premium)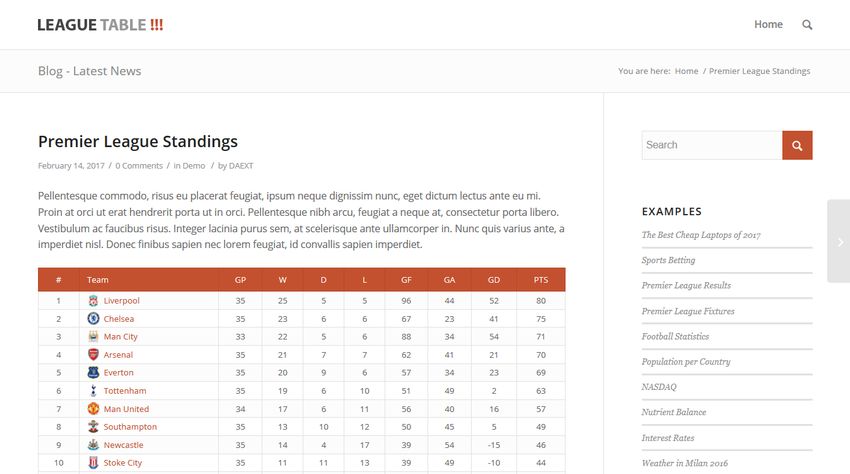 League Table is a premium plugin without a free option, however it offers multiple advanced features you can expect only from the best WordPress table plugins. For a start, all tables you are creating with League Table are responsive, so they look good on all viewport sizes. Tables are also sortable and you can add them to any of your posts, pages, custom post types, and widget areas with ease.
Besides, you can customize literally every aspect of your tables. For example, you can add unlimited colors, change the typography, and add images and links to table cells. You can also highlight cells and apply mathematical formulas such as minimum, maximum, and average calculations. League Table allows you to use an embedded spreadsheet editor, too, so you don't need any coding knowledge to use the plugin.
Download & Pricing:
You can purchase League Table on CodeCanyon for $23.00 and extend support to 12 months for an additional $6.75.
Conclusion
In this list, we have collected the best WordPress table plugins with which you can easily create and manage tables on your WP site. As many of these plugins have both free and premium editions, it can be a good idea to start with the free version and if you like it you can purchase the premium plan, too.
Choosing the best WordPress plugins is not an easy task. To set up a killer WordPress site, check out our collections of the 8 best security plugins and the 13 essential site launch plugins as well.